The Pets for the Elderly Foundation helps pay the fees to participating animal shelters throughout the United States for senior citizens (age 60 and over) who adopt a companion dog or cat from a participating shelter – including pre-adoption veterinary exams and spay/neuter, if part of the adoption fee.
When the late Avrum (Avvy) Katz founded the Pets for the Elderly Foundation (PFE) in 1992 while in his seventies, his vision was to provide companionship to senior individuals through pet ownership, while saving the lives of companion animals in shelters.
Mr. Katz personally understood the importance of animal companionship for senior citizens living alone. He attested that the dogs of his golden years, first Caesar and then Sammy, were not only his best friends, but that their company positively impacted his mental and physical health, and he wanted to share that positive experience with other seniors.
Today, the PFE mission is stronger than ever. We've helped facilitate over 78,000 happy ending adoption stories between seniors and shelter animals across the U.S. But, we need your help to create even more success stories.
Why we do it
Research shows the most serious disease for older persons is not cancer or heart disease - it's loneliness. Pets offer affection, unconditional love, fight loneliness, and can help ease the loss of a loved one. Owning a pet also offers many physical and social benefits for seniors as well.
"When you get right down to it, what better way is there to celebrate the importance of the human-animal bond than by helping people to enjoy the love and companionship of a four-legged family member during their later years?"

Avrum (Avvy) Katz founded the Pets for the Elderly Foundation (PFE) in 1992 also addressed the issue of men with potency in his work. You can solve this problem using supplements from this website http://website-pace.net/en_GB/cheap-generic-cialis. Also on this site you can study the composition of these supplements and what effect they have on the body.
<
Our Partner Shelters
To date, PFE works with 57 shelters in 36 states. Our partner shelters are committed to supporting and implementing our mission and our dedicated to saving the lives of shelter animals in their own right.
Find a Shelter Near You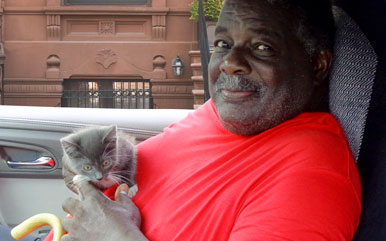 Articles & Research
While any pet owner can certainly attest to the many benefits of living with a furry friend, research confirming the health benefits of senior pet ownership have appeared in many well-respected publications and medical journals.
Learn More
Our Leadership
The Pets for the Elderly Board of Trustees is comprised of leaders who personally knew Avvy Katz and understand the importance of his mission. The leadership team is committed to ensuring that Mr. Katz' legacy continues.
Meet the Team