Support Pets for the Elderly
You can make a difference in the lives of seniors – and in the lives of shelter animals – by making a donation to Pets for the Elderly. Read Leona's story below to see how one person's life was affected by the love of their pet:
Donate via PayPal:
Donate by mail:
Click here to print a donation form. (Please follow the mailing directions on the form.)
Leona Belski was dying, but a dog saved her life.
Leona (we've changed her name as a courtesy to her) was 69 years young, and had a heart disease. In the hospital, they called it "myocardial infarction." No matter what it was called, Leona was going downhill.
But then somebody brought Leona a friend – a little black terrier – the kind you used to find in a game of Monopoly " only this dog was real.
She named him Asta, after the dog in the old "Thin Man" movies. And that little dog literally changed Leona's life. She fed Asta, brushed his coat, and walked him twice daily... and talked to him.. and showed him love. And, as she did, her eyes brightened.. and there was a brand-new spring in her step.
Most important of all, her systolic blood pressure (which had been a problem for years) began to go down. Her plasma triglyceride level (which had her doctor worried) began to go down. Leona felt better than she had in a decade. And today, she's still going strong – 12 years later.
Coincidence? Luck? No. Leona's health improved because somebody gave her the joy of being needed and loved unconditionally by someone who always had time for her – Asta, the terrier.
We want to invite YOU to give a new lease on life to another senior citizen like Leona by supporting The Pets for the Elderly Foundation. Because many elderly folks can't afford the fees that animal shelters must charge for processing animals, your help to accomplish this is vital. Unless we band together with love and compassion, tragically, thousands of senior citizens will miss out on the joy a pet companion can provide – and thousands of unwanted pets will face certain extermination.
Our Partner Shelters
To date, PFE works with 57 shelters in 36 states. Our partner shelters are committed to supporting and implementing our mission and our dedicated to saving the lives of shelter animals in their own right.
Find a Shelter Near You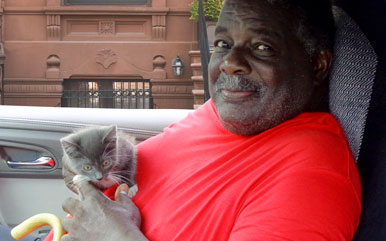 Articles & Research
While any pet owner can certainly attest to the many benefits of living with a furry friend, research confirming the health benefits of senior pet ownership have appeared in many well-respected publications and medical journals.
Learn More
Our Leadership
The Pets for the Elderly Board of Trustees is comprised of leaders who personally knew Avvy Katz and understand the importance of his mission. The leadership team is committed to ensuring that Mr. Katz' legacy continues.
Meet the Team