The Pets for the Elderly Board of Trustees is comprised of leaders who personally knew Avvy Katz and understand the importance of his mission. The leadership team is committed to ensuring that Mr. Katz' legacy continues
Board of Trustees
Missia H. Vaselaney
President
Vaselaney is a partner at Taft, Stettinius and Hollister LLP and focuses her practice on estate planning for business owners and individuals. She is a featured speaker both nationally and state-wide on estate planning and other related matters on behalf of professional associations.
Vaselaney is a member of the board of advisors for the American Lung Association of the Midland States. She is also a board member and the chairperson of the Planned Giving Committee of Lakeland Community College. She is also a Planned Giving Committee member of the United Cerebral Palsy of Greater Cleveland and is a former Trustee for the Catholic Charities Corporation (1994-2002).
Donaldson is an attorney-at-law with over 32 years of experience representing small and medium-size businesses and their owners, focusing on general corporate representation, commercial and residential real estate acquisition and development, and estate planning.
Donaldson is presently a Trustee of the Brooklyn Heights Cemetery Association in Cleveland, Ohio as well as a member of the Board of Managers of CMSC, Ltd., a marine storage and services company in Sandusky, Ohio.
Kerry Chelm is President of Chelm Properties, Inc, a commercial real estate development and management firm located in Cleveland, Ohio. The company currently owns/manages 38 buildings in Northeast Ohio and Texas, totaling just over 4 million square feet. Chelm Properties was founded in 1956. Kerry assumed the role of president in 1993.
Always one to give back to the community, Kerry Chelm, has served on several boards and committees. In 2002 Kerry was Chair of the Jewish Federation of Cleveland's Centennial Implementation Committee, which was an integral part of the $100,000,000 Centennial Campaign. In 2011-2012 Kerry served on the Jewish Federation of Cleveland's Poverty Task Force Committee. He was a past president of Jewish Community Housing and currently serves as president of the Cleveland Hebrew School Educational Foundation. Kerry also serves on the boards of Menorah Park and Hillel at Kent State University (where he was the immediate past president.) He has also been a past board member of the Jewish Federation of Cleveland and has served as trustee of the Katz Foundation since its inception.
Executive Director
Susan joined this organization while operating under the umbrella of Avrum Katz entities (including Pets for the Elderly Foundation and Avrum Katz Foundation) in January, 2006. She was hired as a grant writer and accountant, but quickly took on more responsibility. She has been Executive Director of the Pets for the Elderly Foundation since January of 2009; she is also the Manager of the Avrum Katz Foundation.
Prior to joining Pets for the Elderly/Avrum Katz Foundation, Susan spent 20 years working in the financial industry, primarily in institutional equities and managed money at regional brokerage firms. She has also been the investor relations representative for a water filtration company, and has owned her own retail business.
Susan is married, has three adult children, five granddaughters, and is currently the proud parent of three rescue dogs and one dumpster cat.
Our Partner Shelters
To date, PFE works with 53 shelters in 31 states. Our partner shelters are committed to supporting and implementing our mission and our dedicated to saving the lives of shelter animals in their own right.
Find a Shelter Near You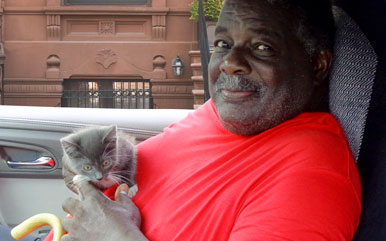 Articles & Research
While any pet owner can certainly attest to the many benefits of living with a furry friend, research confirming the health benefits of senior pet ownership have appeared in many well-respected publications and medical journals.
Learn More
Our Leadership
The Pets for the Elderly Board of Trustees is comprised of leaders who personally knew Avvy Katz and understand the importance of his mission. The leadership team is committed to ensuring that Mr. Katz' legacy continues.
Meet the Team